EIMplus: Partners in progress
EIMplus is a proven partner in successful solution design, development, deployment and sustainment programs across US Government Agencies and regulated industries.
Anchoring the EIMplus approach is experience gained through leadership of multi-phase programs that have produced measurable improvements within a range of operational imperatives.
Progress begins with a focus on those we serve; building effective program teams within complex organizations, operations workflows and supporting information ecosystems.
In all engagements, EIMplus seeks to leverage both existing systems and emerging technologies to arrive at an optimal balance of operational gains, time to value, maintainability and compliance.
Utilization of COTS certified and industry standard open source capabilities within a Cloud / API-based framework is always the solution design starting point for EIMplus, prioritizing use of COTS solutions.
Areas of technology expertise include ERP / Applications, data and records management, security, interoperability and automation. We leverage this expertise in deployments of ML/AI processing.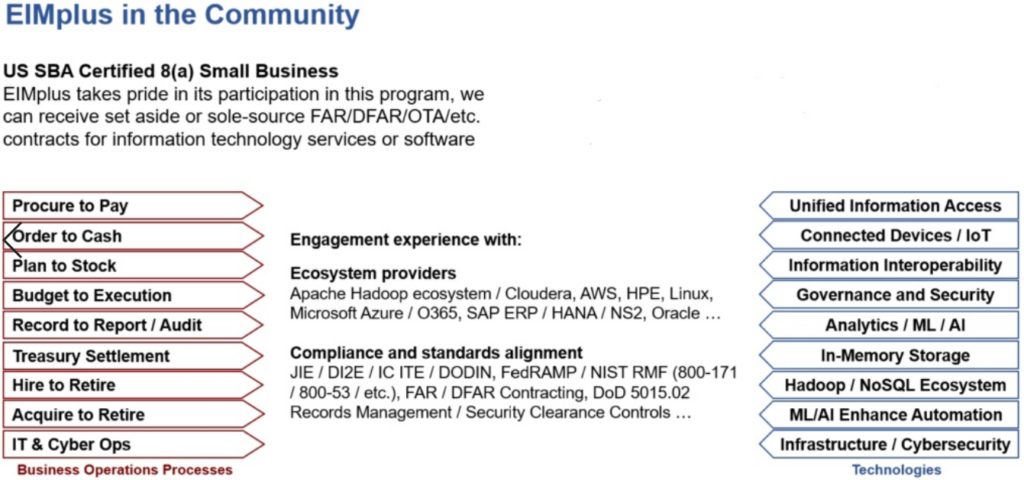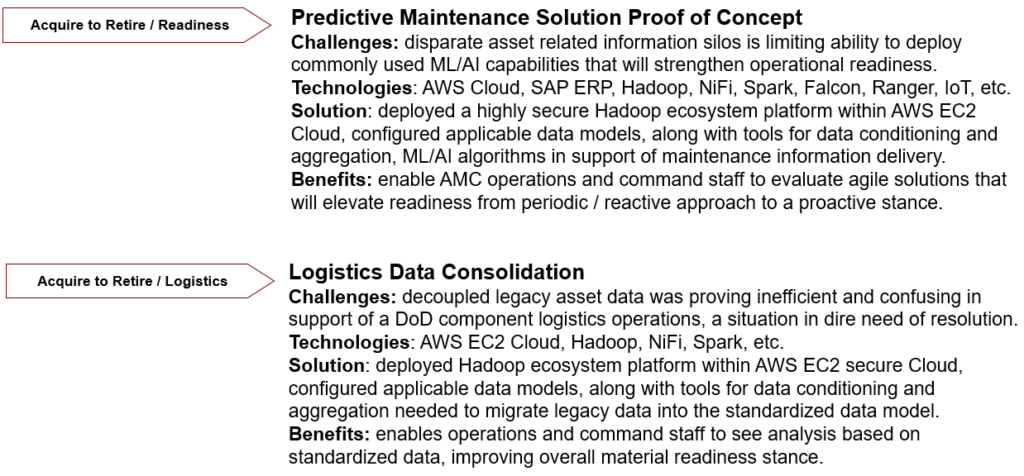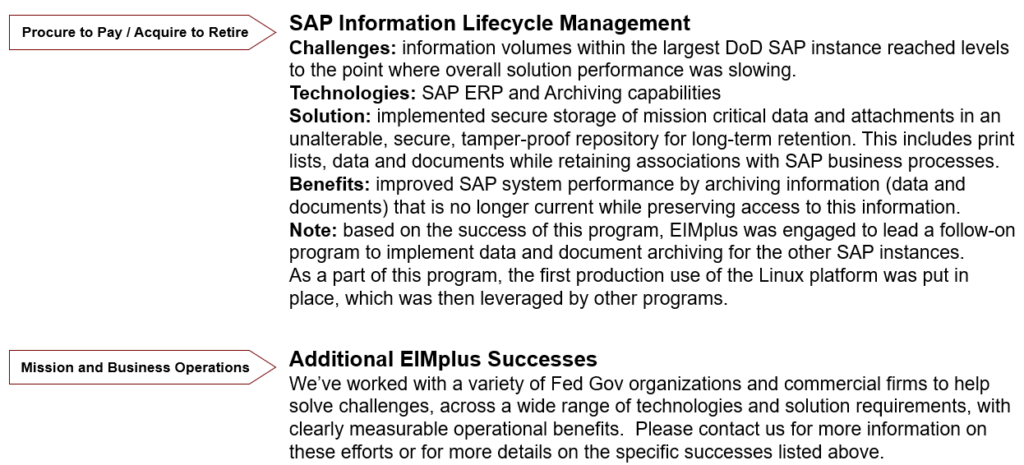 Key Differentiators
Our People
Active engagement with Stakeholders
Client Relationships
Process Consistency expertise
Technical Delivery Expertise
Knowledge Management and Transition
Security Cleared Professionals
Program Support
Strategic Planning
Needs Assessment & Feasibility Assessment
Performance Metrics
Training and Administrative Support
Cost/Price Analysis
Service Management and Help Desk
ITSM Services
Help Desk Services
Solution Support
Cloud Migration Services
Big Data Analytics
Artificial Intelligence
Robotic Process Automation
Cyber Security Analysis
Enterprise Information Management, and
Enterprise Application Integration
Acquisition Support
Procurement Planning
Performance Work Statement Preparation
Proposal Evaluation & Source Selection Management
Performance Based Work Statement Development
Hardware/COTS Acquisition
Independent Verification & Validation Services (IV&V)
Requirements Analysis
Test, Planning, Execution and Reporting
COTS product evaluation
Milestone reviews, Defect Investigation
Independent Assessments
Contact Us:
(e) mailto://services@eimplus.com